Recipe - Original Green Smoothie
Recipe - Original Green Smoothie
Original Green Smoothie
Delicious Antioxidant-Rich, Green, Alkaline, full of healthy oils and protein!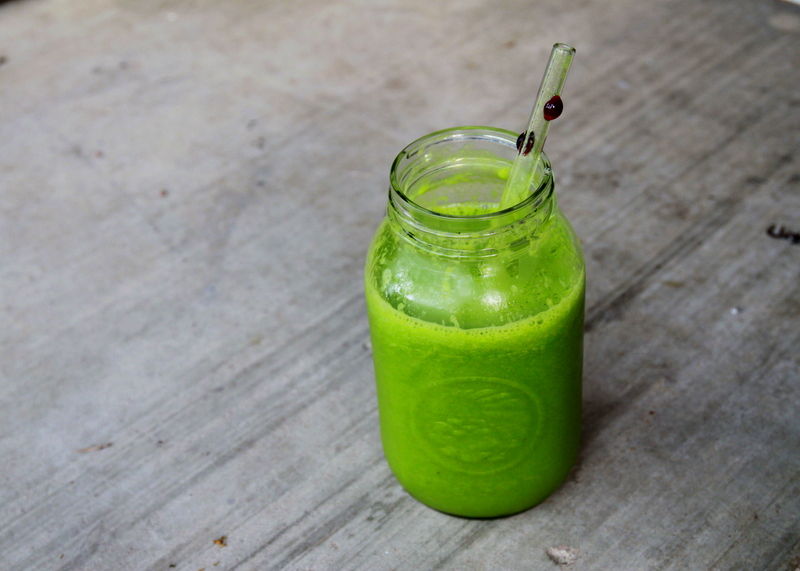 Serves: 2
Preparation Time: 15 Minutes
Ingredients:
A handful of Kale
A handful of Spinach
2 Broccoli heads
1 Tomato
A handful of Lettuce
1 Avocado
1 Cucumber
1/2 clove Garlic
Juice of 1/2 Lemon
A little water to the texture you like
Instructions
Blend the avocado, cucumber and lemon juice to form a paste, then add the other ingredients.
You can blend in a little ice if you prefer it chilled, or add a little chilli.
OPTIONAL: Sweeten it up with some capsicum (pepper).
Nutritional Summary
This food is low in Sodium, and very low in Cholesterol. It is also a good source of Dietary Fiber, Vitamin B6, Folate, Potassium, Copper and Manganese, and a very good source of Vitamin A, Vitamin C and Vitamin K.
Alkaline Rating: Highly Alkaline
Protein Completeness: Provides 98% of all protein types required
Nutrient Balance: Provides 75% of all nutrients required for optimal health
Glycemic Index: 16 (low)
Weight Loss: 4.5/5
Optimum Health: 5/5
Proven Health Benefits: Antioxidant, Energy, Nervous System, Psychological Function, Blood Health, Immune Health, Hormonal Health, Muscle, Bone, Skin, Eyes, Teeth and Hair!