Recipe - Ninja Power Meal
Recipe - Ninja Power Meal
Ninja Power Meal
Delicious, filling and only requires about 10 minutes to make! It is vibrant, colourful and packed with anti-oxidants!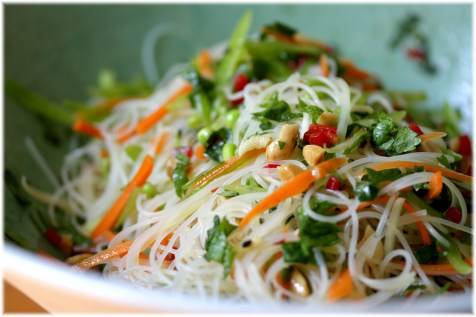 Serves: 2
Preparation Time: 10 Minutes
 
Ingredients:
1/4 Red cabbage thinly sliced
2 Handfuls of spinach leaves
2 Vine-ripened tomatoes, sliced
1/2 red onion, diced
4 spring onions, thinly sliced/shredded
1/2 cucumber, cut into thin matchsticks
1 carrot, cut into thin matchsticks or spiralised
1/2 broccoli, chopped small
Handful of beansprouts
1 serving of soba noodles
1 handful of coriander leaves
Juice of 1 lime
Bragg Liquid Aminos/Soy Sauce
Optional: handful of alfalfa sprouts
Instructions
Tear the coriander and squeeze the lime juice over it to marinate a little.
Slice everything and prepare the soba noodles.
Mix together in a big salad bowl with the Bragg or soy sauce and eat!
This meal is 90% raw, but with warmth and substance from the noodles.
If you want to keep this meal alkaline then use Bragg because soy sauce is acidifying in the body.
Nutritional Summary
This food is very low in Saturated Fat and Cholesterol. It is also a good source of Dietary Fiber, Thiamin, Vitamin B6, Folate, Magnesium and Potassium, and a very good source of Vitamin A, Vitamin C, Vitamin K and Manganese.